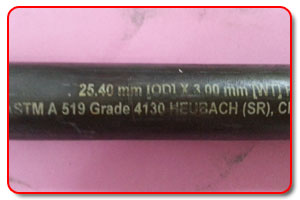 Heubach International is manufactures & exports of 4130 Seamless Tubes, Fittings, Flanges & API connections in material grades AISI 4130. Heubach International is manufactures its products in different sizes, range, type and. schedule-class.
4130 Seamless Tubes Specification
Product Name: 4130 Tubes
We accept all small/large quantity orders.
Specifications
1. AISI 4130 Seamless Steel Tube
2.Hot finished, hot colled, cold drawn, cold finished process
3 Surface:black painted
ASTM A 519 seamless carbon and. alloy steel mechanical tubing
1.Stand.ard ASTM A 519
2.Seamless carbon and. alloy steel mechanical tubing, hot rolled or cold drawn produce flow
3.Chemical requirements of Low-carbon steels: MT 1010, MT 1015, MT 1020
4.Chemical requirement of other carbon steels 1008, 1010, 1015, 1020, 1025, 1030, 1045
5.Chemical requirement of alloy steels 4140 4150
6.Hot-finished tubing OD 21.3-273mm
7.Delivery condition: sizing methods: HF-hot finished
8.CW-cold worded
9.RT-rough turned
10.G-Ground
Applications: for mechanical engineering, Automobile and. Bearing Industry, Mechanical and. Structral Purpose, Hydraulic and. Petrochemical Purpose, etc.
4130 Seamless Tubes Packaging & Shipping
Packaging & Delivery
Packaging Detail:Black painting,end of caps.or as customer requirement for ASTM A519 SAE 1045,SAE 1020,aisi 4140, aisi 4130 Seamless Steel Tube
Delivery Detail:30 days for AISI 4130 Seamless steel tube
AISI 4130 SEAMLESS Tubes Packing: Plastic plugs in both ends, bundles of max. 3,000kg with several steel strips, Two tags on each bundle, Wrapped in waterproof paper and. sackcloth with several steel strips
AISI 4130 SEAMLESS Tubes Delivery Condition: Annealed (A), Bright Annealing, Normalized (N), Stress Relief Or Finish Anneal (SR), Quenched and. Tempered (Q+T), etc.
AISI 4130 SEAMLESS Tubes Marking: All tubes are eddy current tested and. are marked with size, cast number and. specification. Or as per customer's requirement
Packing Type: Round , Square, Rectangle, Hexagon. Streamline, etc
AISI 4130 SEAMLESS Tubes Inner packing:
Caps on two ends of every pipe
AISI 4130 SEAMLESS Tubes Outer packing:
Hexagonal shape bundles wrapped with strong steel trip or according to customers'requests.
So, besides the fact that we can arrange freight transportation for you, we can before that:
Specifically mark parts or packages:
provide for a special packing according to what is required by the shipping method or by you.
We mark the AISI 4130 SEAMLESS Tubes as needed with the most suitable marking technique.
When packaging and. packing, our experienced warehouse staff systematically takes the greatest precautions for your AISI 4130 SEAMLESS Tubes to be optimally protected during transportation. We pack the AISI 4130 SEAMLESS Tubes according to the appropriate method: strapped pallet, wooden crate, overseas packing (ISPM15).