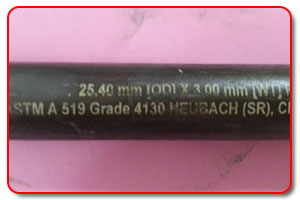 Heaubach International is manufactures & exports of AISI 4130 SEAMLESS Pipes, Fittings, Flanges & API connections in material grades AISI 4130. SP Metal manufactures its products in different sizes, range, type and. schedule-class.
AISI 4130 SEAMLESS Pipes Specification
Product Name: AISI 4130 SEAMLESS Pipes
We accept all small/large quantity orders.
AISI 4130 pipe
1. AISI stand.ard
2.OD:48.3-457, WT:3.68-45.24mm,5-12mSpecifications
The following specifications cover Alloy Steels 4130
AISI 4130,AMS 6348,AMS 6350,AMS 6351,AMS 6360,AMS 6361,AMS 6362,AMS 6370,AMS 6371,AMS 6373,AMS 6374,AMS 6528,AMS 7496,ASTM A29,ASTM A322,ASTM A331,ASTM A506,ASTM A507,ASTM A513,ASTM A519,ASTM A646 (Forging – Open Die),ASTM A752,ASTM A829 (Plate),MIL S-18729,MIL S-6758,SAE J1397,SAE J404,SAE J412,UNS G41300
Related Metals:
Chrome Moly – 4130
Astm a519 4130, Api 5ct grade l80, Stress relieved 4130 seamless pipe, Normalized 4130 seamless pipe, Chrommoly 4130 pipe, Seamless chrome moly pipes, Api 5ct l80 aisi 4130, Aisi 4130, Astm a519 4130, Seamless 4130 pipes, Chrom-moly, 5ct l80 4130 pipe, 4130 pipe, 4130 pipes, astm a519 4130 pipe, astm a519 4130 seamless pipes, stockist of 4130 pipe, stockist of 4130, seamless pipes, manufacturer of 4130 pipe, 4130 stress relieved pipe, 4130 normalized pipe, 4130 grade pipe, 4130 grades pipe, Seamless pipe 4130 grade, A519 4130 pipe, Japanese origin 4130 pipe, 4130 pipe india, 4130 pipes in india, 4130 pipes trader, 4130 pipes stockist, Api 5ct stress relieved pipes, Api 5ct 4130 seamless pipe, Stockist of 4130 pipe, Api 5ct grade l80 seamless pipes, Astm a519 4130 pipes in india, Japanese origin 4130 grade pipes

Applications: Automobile and. Bearing Industry, Mechanical and. Structral Purpose, Hydraulic and. Petrochemical Purpose, etc.